Are you in the process of planning an event and feeling overwhelmed by all the work that needs to be done to let others know about it? Relax! There are several online event marketing tools that can help you design eye-catching graphics, promote your event to the proper audiences, and make it easy for folks to buy a ticket.
You have your hands full planning your event, working with vendors, and trying to nail down the details so that it goes off without a hitch. In this post, we'll show you some of the best tools for marketing an event all by yourself, whether you're short on cash or simply need to work quickly.
What is an event marketing tool?
An event marketing tool is any online resource that helps event planners with the organisation and promotion of their event. You can use event marketing tools for a variety of purposes, from creating event graphics to selling tickets to promoting your event on social media.
Although you might have to learn a few skills and watch a few tutorials, most of these tools are simple to use — and if you're committed to learning more about them, they'll only become more helpful as your knowledge grows.
Why should you use event marketing tools?
If you find yourself wondering how you're going to go about promoting an event, it's worth looking into tools that can help you accomplish your goals. But first you'll need to consider what kind of event you'd like to host and what you need help with.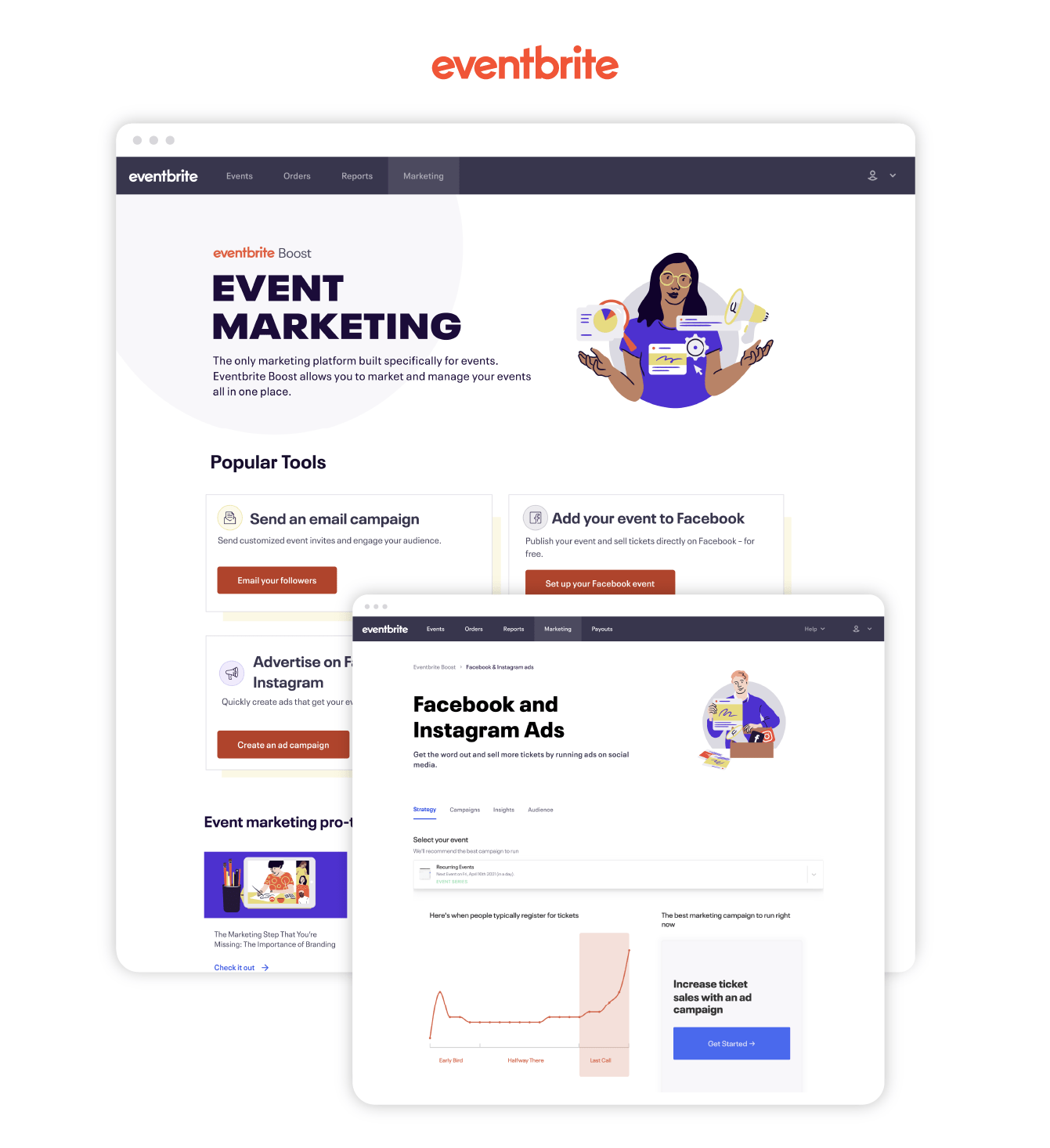 If you want to sell tickets to your event, a platform like Eventbrite can help you create an event page that's easy to share with others. Those who need to design a graphic for their event can do so using a tool like Canva. And if an email marketing campaign is in your future, tools like HubSpot or Eventbrite Boost (pictured above) can help you get in touch with folks who might be interested in attending your event.
You already have a lot on your plate as you organise and execute your event, so taking advantage of promotional tools isn't a failure on your part — it's a smart way to get the word out about your event quickly and efficiently.
The best marketing tools for event organisers
Choosing the proper tools for your event marketing task is important — that's why we've rounded up these options to assist with event design, event measurement and analytics, social media, and ticketing.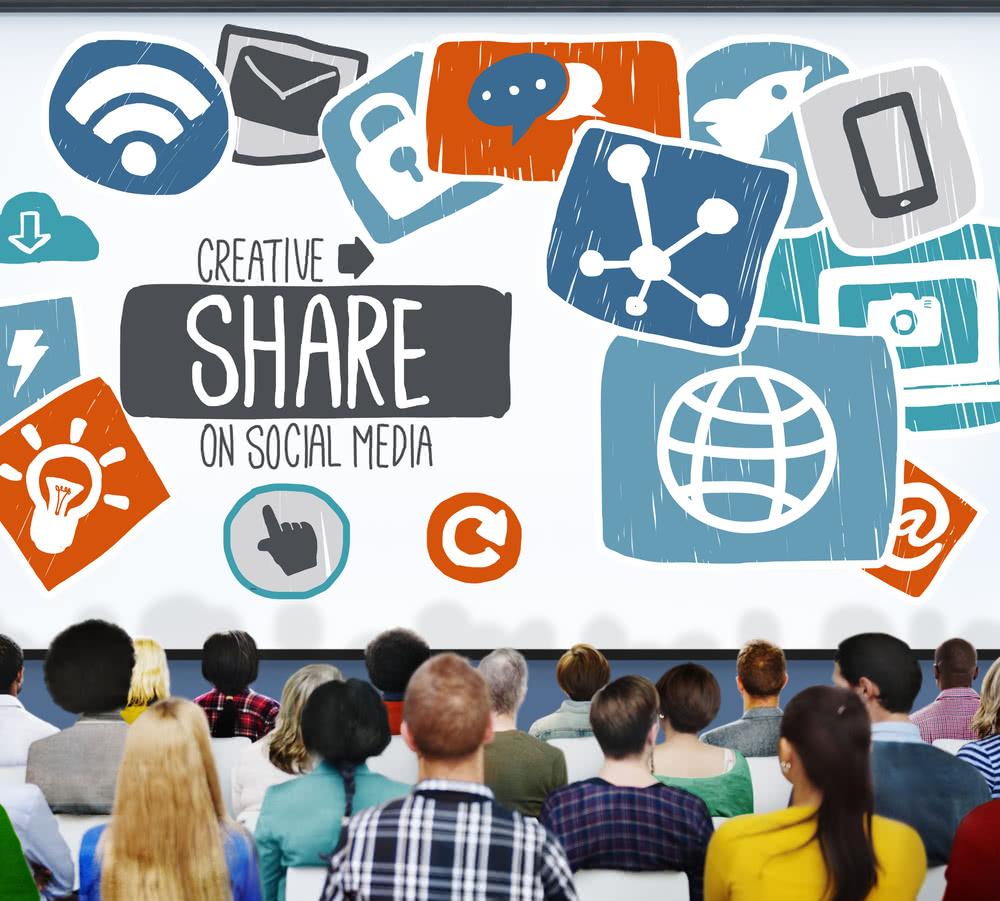 1. Canva
Don't have the money to hire a graphic designer? Canva allows you to create social media graphics, posters, and other design elements making use of simple, customizable templates. You can access a wide range of templates for free, and event organisers can purchase additional design elements if needed. Your resulting image will look professional and go a long way to making your event look attractive to potential attendees.
2. Chatbots
You can program chatbots to answer common questions for potential customers and attendees. This technology can run on websites, mobile apps, Facebook messenger, and more. Bonus: You can have chatbots send event reminders as well.
3. Eventbrite
You're likely already aware that Eventbrite offers an easy way to sell tickets to your event and keep track of your customers, but the platform also includes some powerful promotional tools. Using Eventbrite Boost, you can put together targeted paid social ads and email campaigns as well as assemble email lists that will allow you to more effectively market your future events.
Boost also provides you with real-time optimizations and easy-to-digest data, so that you can understand how your campaigns are performing and ensure return on ad spend.
4. Hootsuite
Keeping track of all of your social media accounts can be a juggling act, which is why Hootsuite offers a tool that allows you to manage every social media account in one place. You can also track all your event-related social media activity, schedule and publish content, track who's talking about their event, and measure their event's social media reach.
5. HubSpot
If you want to know more about the people who are attending your events, HubSpot is an excellent tool for tracking customer data and creating targeted marketing campaigns. You'll gain the ability to segment customers into different lists, and market your events to specific individuals based on their customer behavior.
6. Google Analytics
You might know Google Analytics as a tool that can track website traffic, but it also catalogs information that can be invaluable to event organisers. With Google Analytics, you can see where visitors to your ticketing page are coming from (e.g. from email, from Facebook, from Google), and how long they're staying on the page. This could influence where you decide to spend your ad budget, and the level of detail that you include in the event description.
7. Social Media Ads
If you want to reach a lot of potential customers quickly, placing ads via social media is an easy way to spread the word about your event. Facebook, Instagram, Twitter, LinkedIn, and TikTok all offer ad platforms that allow you to target potential attendees for your events — though you'll have to tailor your ad and message to each platform (an Instagram ad looks silly without an eye-catching photo or graphic). You can use a tool like Eventbrite Boost to simplify the process of placing social media ads and sharing your event page.
Ready to start marketing your event, building an email list, and forging a loyal audience for your events? Learn more about our personal favorite event marketing tool.