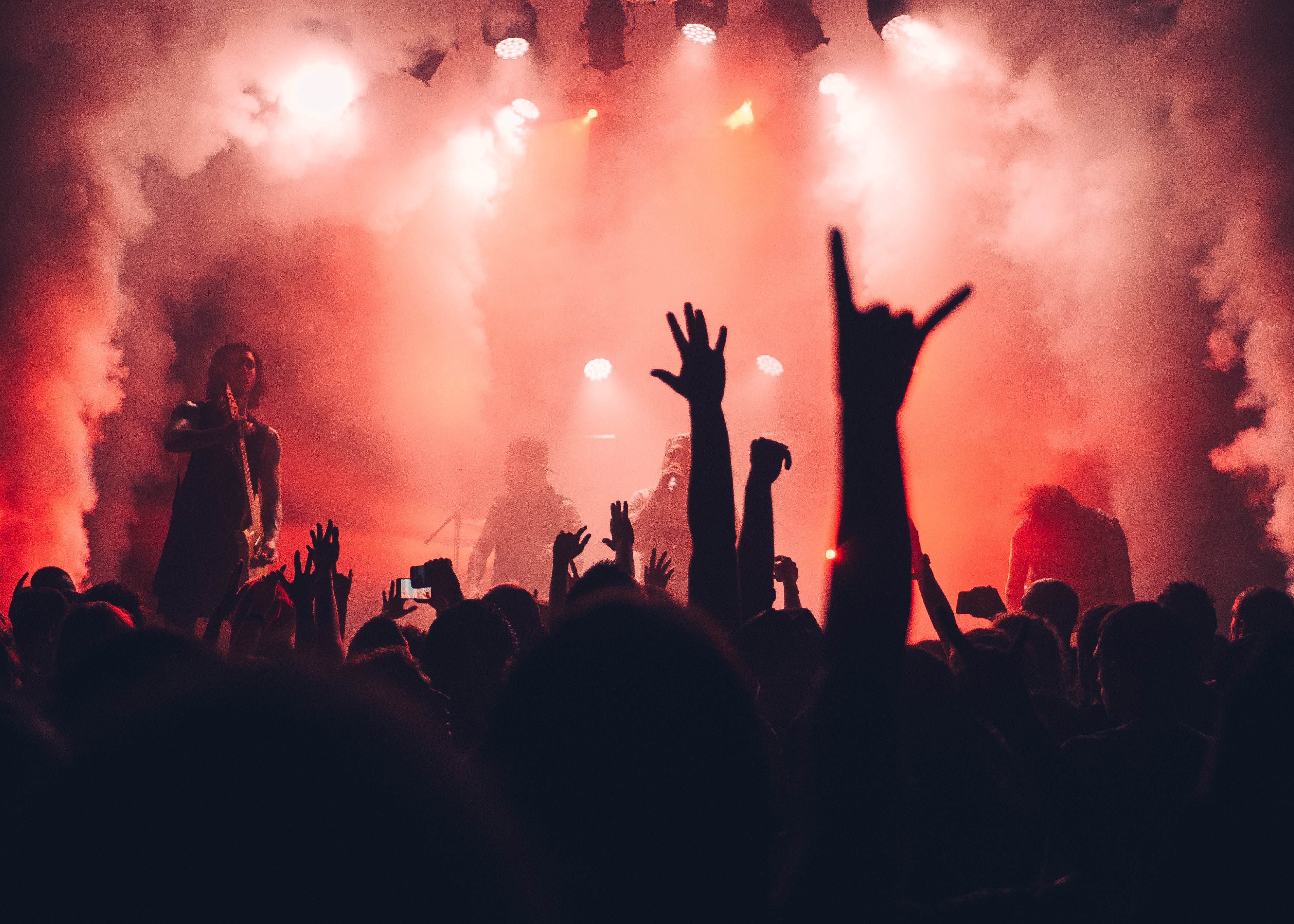 Music festival season is here, and festival-goers are ready to celebrate after a long wait! The lifting of COVID-19 restrictions means that, rather than focusing on government guidelines, you can finally get creative again. As you begin organising your own festival, you'll be thinking of ways to make your event stand out. That's why we've created a roundup of festival trends for 2022, so you can use them as insight into how festival season is shaping up and celebrating coming together to enjoy live music again.
Planning your festival requires a strategic approach and heaps of creative flair. For festival inspiration, we spoke to Dominic Perez-Silva, Eventbrite Senior Partnerships Manager. Read on to find out his thoughts on the top five music festival trends for summer 2022 and how best to implement them.
Festival trend #1: Embracing recent changes
Widespread COVID-19 restrictions may have eased, but your audience may still expect measures such as optional face masks or hand sanitation stations. Having just some of these basic precautions in place will make guests more comfortable and encourage healthy behaviours.
Adopting streamlined entry requirements also shows you are ready to welcome back guests in a careful and considered way. Making ticket purchases and admissions as easy as possible, from digital tickets to scheduled entry times is a key way to keep your guests safe. We asked Perez-Silva how he thought entry processes would change this summer.
"Throughout the pandemic, venues, festivals and promoters alike have been 'forced' to consider contactless events, to go cashless, and to implement timed entries, but are now seeing the benefits in terms of crowd control and being able to reconcile these types of events more efficiently," he says.
Embracing these changes means your guests have clear, concise information and it's easier to control crowds (and cut down on unticketed entry). Scheduling entries can mean guests avoid long queues, and it reduces unnecessary contact between people.
Festival trend #2: Feeding the need for nostalgia
Nostalgia is nothing new, but summer 2022 is about celebrating the music and fashion of previous decades with a fresh approach. We're seeing that festival-goers are nostalgic for genres like the early days of hip-hop, 90s R&B, 80s punk, and 00s emo. At the Biggest 90s 00s Disco Outdoor Festival, for instance, some of the best-known hip-hop acts have been given their own stage, while at Riot Fest, punk and alt-rock are top of the bill.
You'll also notice that it's mostly about the 80s, 90s and 00s, and Perez-Silva thinks that's down to the changing demographic of festival-goers:
"What I think we are seeing nowadays is younger demographics, (late millennial/Gen Zs) are embracing these more and more due to the artists they support who champion those styles of music. For example, take a look at the charts today: Harry Styles's 'As It Was' features a very similar riff to that of A-ha's hit from the 80s 'Take On Me', and Dua Lipa's latest album is very 80s in sound – and is literally called 'Future Nostalgia'!".
At Back 2 Festival '22, artists from the 80s, 90s, and 00s are taking centre stage. You'll find mixed genres ranging from garage, clubland, and pop, which automatically attracts a diverse crowd. Part of the line-up has also been curated by the LGBTQIA+ venue, The Nightingale Club, featuring resident drag performers and a queer rave. For Back 2 Festival, the focus is on creating a space that's as inclusive and diverse as it is nostalgic. 
Festival trend #3: Offering more than just music
Live music is undoubtedly an important part of your festival, but there's huge scope to offer your guests so much more. Perez-Silva thinks that attendees are actively looking for new experiences:
"After two-plus years of not being able to attend festivals, gigs, or concerts, I feel that these attendees are now chomping at the bit to get out there and make up for lost time – not just to attend events but to be 'part of the event' through interactive activities and workshops.
"With the pandemic, the world has been forced to embrace technology and explore how we interact… We all remember those lockdown Zoom quizzes. Embrace technology available nowadays, whether that's leaning into immersive and tech or, if you don't have the budget, streaming your event can provide huge reach and create hype and buzz for future editions".
Planning your festival to be more activity-focused can extend your reach and keeps your most valuable fans happy. Added extras like craft markets, costume parties, and culinary demonstrations always go down well. At Sonic Bloom 2022, attendees can enjoy yoga classes, workshops, and interactive zones aimed at raising social consciousness and promoting wellbeing. Meanwhile, Beanstalk Music and Mountain Festival offers its guests an immersive camping experience complete with white water rafting, and organised hikes.
Performances, like comedy or drag shows, also fit well with the festival culture, and if you've got a great location, why not use it to its full potential? Carnival Nation secures great beach-based venues for their Caribbean festivals while Rooster Walk holds its events on stunning farmland and in mountain settings. Art installations, vineyards, or urban landscapes – making the most of the location really helps your festival stand out.
Festival trend #4: Having people stay a while
No hard and fast rules say that your festival needs to be short. Instead of a single day or weekend, why not take the lead from Big Dub Festival and host your festival over five days? Extending your event over two weekends, or hosting a series of club nights like Saved by the 90s, helps keep crowds smaller because they're happening more frequently.
Festival trend #5: Rewarding charitable giving
As a festival organiser, rewarding charitable giving helps you promote philanthropy and allows your music festival to make a valuable contribution to local communities – something Perez-Silva says shouldn't be ignored:
"There is a clear need to be a more socially conscious event and, nowadays, this is scrutinised more and more by attendees which is a good thing for the planet! In terms of effective ways to demonstrate social conscience – at Eventbrite I see so many organisers working closely with charities, donating percentages of profits, and creating 'pay it forward' ticket options or using our add-on features to donate set amounts to these charities".
Tap into festival trends
Music festivals, and festival-goers' expectations, are constantly evolving. It's important to keep your finger on the pulse of the latest festival trends, and adapt your events to suit them. No matter what kind of event you plan, you can make sure people know about it by using Eventbrite Boost.