Let us guess — the last time you participated in a scavenger hunt was likely when you were a child, checking locations or hidden items off a lengthy list. Now that you're an adult, a scavenger hunt can be an interesting way to explore a neighborhood or city, even if it's an area that you feel relatively familiar with. And if you're an expert planner, scavenger hunts can be a great addition to your events business.
Don't have a clue where to start? We'll point you in the right direction! Read on to learn how to organise a scavenger hunt for adults that will entertain all of your guests, whether you're in the mood for an intricate treasure hunt or a holiday-themed adventure through a city.
What is a scavenger hunt?
A scavenger hunt is a game in which players collect or identify specific items or locations usually within a certain time limit. You can play scavenger hunts indoors or outdoors and use tools like a smartphone with a camera (for collecting photographic evidence) or a simple printed list to keep track of what individuals or teams have found.
The scale of a scavenger hunt is entirely up to the organiser, with the ability to host a hunt in a small park or spread it out across an entire city. Players can participate individually or as part of teams — and you can determine prizes to award to the attendees that find the most items or locations.
How can you turn a scavenger hunt into an event?
You can easily make a scavenger hunt an event by inviting friends, family, or co-workers to participate. If you want to open it up to the public, you can also create your event and sell tickets (on Eventbrite, obviously) that allow anyone to join in on the fun.
You'll need to provide each participant with a list of items or locations to find or collect, set a time limit, and provide any other necessary instructions (e.g. setting a team name, designing team shirts, location boundaries, taking photos of finds). You can also add an element of competition by awarding prizes to the team or individual who collects the most items.
Why are scavenger hunts fun for adults?
At their core, scavenger hunts are all about exploration, puzzles, and accomplishment — things that people of all ages can enjoy. If you're planning a scavenger hunt for grown-ups, you'll want to ensure it's properly organised so that all participants have the information they need to compete. That means coming up with interesting and challenging tasks, providing clear instructions, and making sure the event runs smoothly.
Our recommended scavenger hunt ideas for adults
Scavenger hunts that cater to adults aren't all that different from the ones you enjoyed as a kid. Here are a few different types of scavenger hunts you can try your hand at organising:
Treasure hunt:

This is a classic scavenger hunt in which players have to find hidden objects or solve puzzles in order to progress toward a treasure (or a prize). You can hide clues around your yard, throughout a neighborhood, or across an entire city. 

Funny scavenger hunt:

This type of scavenger hunt is all about making the participants laugh. The tasks that each participant has to complete might be silly, embarrassing, or just plain funny. Think taking photos in funny attire, doing a cartwheel, striking a goofy pose, or convincing a stranger to do the Chicken Dance. This is a great way to break the ice with new people or to have some laughs with old friends.

City scavenger hunt:

If you want to explore a new city or town, try organising a scavenger hunt that will take you to a variety of different places. Players will need to find specific landmarks or solve puzzles in order to progress.The tasks might involve visiting unique shops or restaurants, or finding art installations. This type of scavenger hunt can be tailored to any city, so it's perfect for travelers.

Crazy scavenger hunt:

Anyone looking for an adrenaline rush can take part in this type of scavenger hunt. The tasks might be physically challenging (running up and down a flight of stairs five times), or they might require players to put themselves in uncomfortable situations (doing the aforementioned task in a public place while wearing a tutu). It's all about pushing boundaries and having fun!

Outdoor or nature scavenger hunt:

Those looking for fresh air and exercise can participate in an outdoor scavenger hunt, taking place in a locale where you're surrounded by nature. Tasks might involve finding specific plants or animals, or solving nature-themed puzzles. 

Holiday-themed scavenger hunt:

Add some festive fun to any holiday by creating a scavenger hunt based around the reason for the season. You can hide clues that relate to the holiday, or create tasks that are inspired by specific traditions. You can devise a hunt for Christmas, Hanukkah, Halloween, or an Easter party.

Bachelor or bachelorette scavenger hunt:

Say 'I do' to adding a challenge to your night out. This pre-wedding hunt could include finding a person with your significant other's first name, making a veil out of toilet paper, or

getting a photo with another groom- or bride-to-be.

Virtual scavenger hunt:

Go virtual with a scavenger hunt that involves finding items online or in participants' home or nearby venues. This can especially be fun with remote co-workers and teams. Your participants can share their found objects via Zoom, Google Meet or another video software.

Grocery store scavenger hunt:

Your own version of "Supermarket Sweep"! Put contestants to the test to find specific drinks, foods, or take photos with grocery items in a certain amount of time. We advise asking store employees in advance for approval and donating items to a local food bank for a charitable aspect.
Tips for hosting your adult scavenger hunt on Eventbrite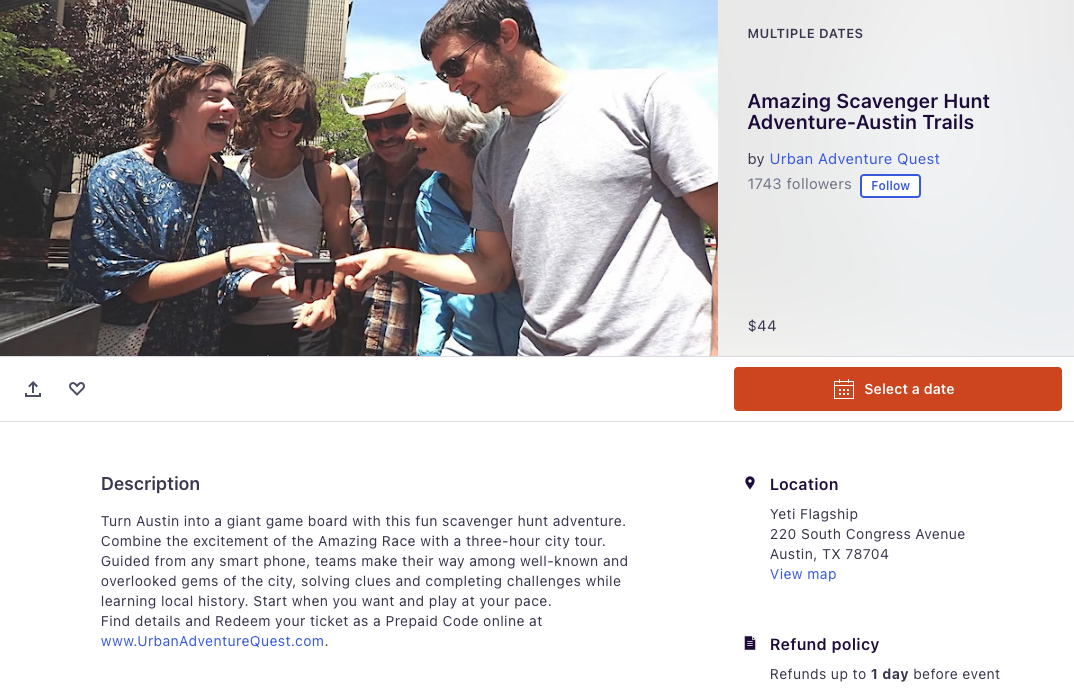 Have an intricate scavenger hunt that you've tested with friends and want to open it up to the general public? With Eventbrite, you can set up your event page, sell tickets to your event, and connect with avid scavenger hunters who want updates on your latest events. Here are some tips for listing your scavenger hunt on Eventbrite.
Create a catchy title and description for your event that goes beyond "Fun Scavenger Hunt." This will help to attract attention and get people interested in participating.

Choose a convenient date and time for your event. Make sure to avoid holiday weekends (when most people are likely to have pre-existing plans) and choose a period of time when it's possible to complete all the objectives in your scavenger hunt.

When setting up your event page on Eventbrite, be sure to include all the relevant information about your event, such as the date, time, location, and a list of what participants will need to bring. Peep our

best practices for setting up an event listing

for more guidance.

Consider including testimonials from participants in your previous scavenger hunts. You want potential customers to understand exactly how enjoyable and can't-miss your events are.

Promote your event using

Eventbrite Boost

so that folks on social media platforms like Facebook and Linkedin can learn about your scavenger hunt and buy tickets. You'll also form an email list that you can use to share news about upcoming events.
Ready to invite some people to explore a new city, looking for clues and landmarks along the way? Discover all the tools you need to list and promote your scavenger hunt.